PGBIG doors will be locked starting Monday, March 23, 2020.
Members will still able to access services via phone, email and knocking on the door. Please read the letter below for more information.
March 18, 2020
Re: Update on PG BIG's response to COVID-19
To our valued Members,
As PG BIG moves forward in the face of this pandemic, I want you to know that our commitment to the individuals we serve, our team, and the community of Prince George is our top priority.
With any crisis, new information, protocols and assistance are available and changing daily. We continue to navigate through this unstable time I wanted to take a minute to touch base with all of you regarding our services and supports at PG BIG.
During this time, we have begun to change how we implement those services. Effective Monday, March 23, 2020 access to services will be limited. Our Groups and Educational Programs are postponed until further notice, and we are encouraging members to make appointments ahead of time or access Case Management remotely. The front door will be locked but please knock of you need to make an appointment or to see a staff member. This was not an easy decision to make but we need to ensure the health and safety of those we serve and our community is maintained.
With that being said, we are committed to serving our members in a one on one capacity. Effective immediately, our services will primarily focus on essential needs (housing, health, finances, food, health and well-being & education/support during this crisis).
Please call and access Case Management remotely, or come in by appointment. If you do choose to come in, please ensure you are well. Your Case Manager will be calling ahead of time to process this with you.
We have bolstered our sanitization and cleaning protocols as well as:
Directed all members wash their hands upon entering the office.
Practice good respiratory etiquette and hand hygiene.
Utilize Personal Protective Equipment measures and items provided.
If you have:
Knowingly have been in direct contact with someone who is a confirmed case of COVID-19.
Recently traveled outside of Canada or anyone in their household within the last 14 days.
Been ill with respiratory illness symptoms (fever, cough, fatigue, and/or muscle aches)
We ask you to refrain from accessing services in person and call your Case Manager. If you do come to the office, you will be asked to leave until you are no longer ill and/or safe to be in the community (the recommended 14 days isolation).
Case Management will assist you with:
Housing: Assistance with shelter support, getting safe/appropriate housing, maintaining current housing
Health: Assist individuals to contact medical professionals, pharmacists, walk in clinics, help lines/resources and alleviate stress on our health care system.
Finances: Provide assistance with upgraded personal benefits (EI, child tax, working tax benefit, GST, mortgage relief etc.), CPPD, PWD etc.
Food: Continue to assist with accessing community resources. We will be offering weekly food delivery service to that in need and/or at risk. Staff will shop for essentials, put hampers together and deliver on certain days. Please contact your Case Manager about this service.
Health & Well-being: It is our duty to ensure that our members are not feeling alone while being in isolation. We will be doing check in's, and liaise work with community resources. We are in the process of getting home phones set up so those who do not have means of communicating so they can stay in touch. Please contact your Case Manager about this service.
Education & Support: Assisting members to navigate these stressful times, offering support and coping strategies as well as factual information about the crisis we are facing.
Employment: Our Employment Program is dedicated to ensuring that our members remain employed for as long as possible, as safe as possible. Please contact Sally at the main office for further inquiries.
If you need to contact your Case Manager about the services we are now providing, please phone 250-564-2447.
Together, we will continue to support you, our valued members, and uphold our commitment to the well-being and safety of our community.
I thank each and every one of you for your understanding and support.
In service and solidarity,
Sarah McCrea
Executive Director

Bringing Innovation To Brain Injury Rehabilitation
The Prince George Brain Injured Group (PG BIG) is a charitable non-profit organization with the mission of providing education, prevention and community rehabilitation to enhance the lives of persons living with the effects of acquired brain injury (ABI), and their families, in and around Prince George, British Columbia.
Brain injury can be devastating to the injured, their families, and to communities. Beyond the individuals' changes and challenges, there can often be confusion, misunderstandings, doubts and huge changes in relationships. Without help, those living with an acquired brain injury and their families are likely to face a lifetime of frustration, hardship and isolation.
Quick Links For Survivors
A Place of Belonging
PG BIG provides a place where survivors and family can come and feel at home.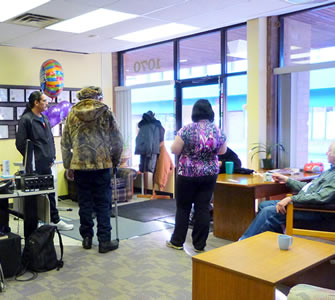 Whether coming in for an appointment, to attend a class, or to ask for help, everyone is warmly welcomed. Here is what survivors have to say about The Prince George Brain Injured Group Office:
"It's a place where I can just be myself."
"I don't have to pretend I'm the person I was before."
"I feel accepted by everyone."
"It doesn't matter if I forget people's names or make mistakes. Everyone else does too."
"I can't tell the survivors from the staff. Everyone is equal."
"We are all like one big family"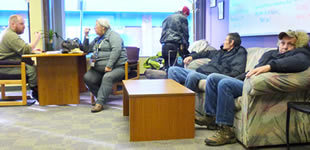 A sense of belonging is extremely important to us all, and it becomes even more so after a life-changing injury. Therefore, the staff at PG BIG work tirelessly to provide a safe, welcoming and nurturing space that welcomes everyone, and belongs to those with a brain injury. Some of the many services offered include:
A friendly, open, and very informal environment.
Comfy couches, chairs, and corners where one can sit and visit with others, or just relax.
Coffee that is always on, and often there are also shared treats to eat.
Equipment available for personal use:

Computers and telephone use.
Photocopying and faxing.
Big screen TV with a DVD player.
Radio with a cd/tape player.

Brain injury library
And for those who still require it, there is a smoking area out back.