June is Brain Injury Awareness Month!
June 4th Kids' Colouring Contest: Open to all Primary and Intermediate grade artists. Pick up an image to colour
here – or have the artist create their own image. Submit your colouring to PG BIG by June 4th to be judged for a prize!
June 11th Create a Safety Image Contest: Open to all. Create a photo, drawing, painting or other image that represents
Brain Injury Awareness, Injury Prevention, or Being Safe. Submit your image to PG BIG by June 11th to be judged for a prize?
June 18th Decorating Extravaganza: Come to PG BIG 1-3:00, Friday June 18 to get decorations and ideas for the parade
next week. We will have your instructions for the parade and supplies for you to decorate your car!
June 25th Brain Injury Awareness Parade: Meet us in the CN Centre Parking lot for our Brain Injury Awareness Parade.
Meet at the parking lot at 12:30 and the parade will roll out at 1:00 – see you there!
Have questions? Ask Paul at (250) 564-2447 or email him at paul.zorzi@pgbig.ca
All contest entries due by 4:30 pm on due date. Winners will be contacted the following Monday. These events are open to community and PG BIG members. Come celebrate Brain Injury Awareness month with us!
Important Information:
We are open for drop in and in person appointments.
Please contact your case manager if you need anything.
Anyone who comes to the office to see their Case Manager must wear a mask and answer a wellness check. If you are coming for an appointment and feel unwell, please let your Case Manager know immediately and rebook your appointment.
Bringing Innovation To Brain Injury Rehabilitation
The Prince George Brain Injured Group (PG BIG) is a charitable non-profit organization with the mission of providing education, prevention and community rehabilitation to enhance the lives of persons living with the effects of acquired brain injury (ABI), and their families, in and around Prince George, British Columbia.
Brain injury can be devastating to the injured, their families, and to communities. Beyond the individuals' changes and challenges, there can often be confusion, misunderstandings, doubts and huge changes in relationships. Without help, those living with an acquired brain injury and their families are likely to face a lifetime of frustration, hardship and isolation.
Quick Links For Survivors
A Place of Belonging
PG BIG provides a place where survivors and family can come and feel at home.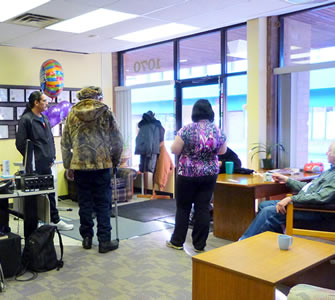 Whether coming in for an appointment, to attend a class, or to ask for help, everyone is warmly welcomed. Here is what survivors have to say about The Prince George Brain Injured Group Office:
"It's a place where I can just be myself."
"I don't have to pretend I'm the person I was before."
"I feel accepted by everyone."
"It doesn't matter if I forget people's names or make mistakes. Everyone else does too."
"I can't tell the survivors from the staff. Everyone is equal."
"We are all like one big family"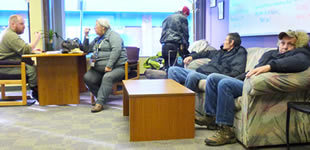 A sense of belonging is extremely important to us all, and it becomes even more so after a life-changing injury. Therefore, the staff at PG BIG work tirelessly to provide a safe, welcoming and nurturing space that welcomes everyone, and belongs to those with a brain injury. Some of the many services offered include:
A friendly, open, and very informal environment.
Comfy couches, chairs, and corners where one can sit and visit with others, or just relax.
Coffee that is always on, and often there are also shared treats to eat.
Equipment available for personal use:

Computers and telephone use.
Photocopying and faxing.
Big screen TV with a DVD player.
Radio with a cd/tape player.

Brain injury library
And for those who still require it, there is a smoking area out back.