PGBIG doors will be locked starting Monday, March 23, 2020.
Members will still able to access services via phone, email and knocking on the door.
Please visit PG BIG's Response To COVID-19 From Executive Director Sarah McCrea for more information.

Prince George Brain Injured Group Annual Survey
It's that time of year again! Before our AGM in June we need to have our yearly service provider survey complete. We normally have you all fill out a paper copy in office but this year due to Covid we sadly cannot see your lovely faces. PG BIG is moving forward virtually with our survey.
Please take the time before June 11th at 5pm to click the link below to anonymously answer 10 questions to help PG BIG learn our strengths and the areas that we can improve on. Please keep an eye out for an additional post to attend our AGM by zoom on June 16th. We thank you all for taking the time to fill out the survey.
Highlights From PGBIG Special Newsletter
May 11th to May 17th
Zoom Groups:
Relationship Group is up and running. This group started May 4th and went very well for its first time.
Introduction to Brain Injury will be starting Tuesday May 12th at 11:00 am.
This group will be done on the Zoom program so anyone who wants to participate can call your Case Manager and then you can be given instructions on how to participate.
Fridays at 11:00 am Zoom for anyone. Check in with Vicki for more information to join.
Facetime Live!!!
We are doing Live Videos twice a week on Tuesdays and Thursdays at 11:00 am. This happens on "The Prince George Brain Injured Group Open Page on Facebook" Come check it out and share your thoughts, or leave a comment.
Bringing Innovation To Brain Injury Rehabilitation
The Prince George Brain Injured Group (PG BIG) is a charitable non-profit organization with the mission of providing education, prevention and community rehabilitation to enhance the lives of persons living with the effects of acquired brain injury (ABI), and their families, in and around Prince George, British Columbia.
Brain injury can be devastating to the injured, their families, and to communities. Beyond the individuals' changes and challenges, there can often be confusion, misunderstandings, doubts and huge changes in relationships. Without help, those living with an acquired brain injury and their families are likely to face a lifetime of frustration, hardship and isolation.
Quick Links For Survivors
A Place of Belonging
PG BIG provides a place where survivors and family can come and feel at home.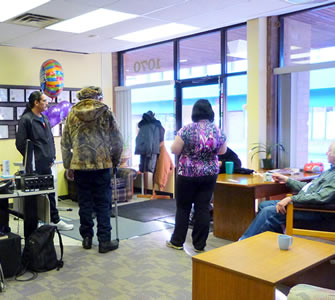 Whether coming in for an appointment, to attend a class, or to ask for help, everyone is warmly welcomed. Here is what survivors have to say about The Prince George Brain Injured Group Office:
"It's a place where I can just be myself."
"I don't have to pretend I'm the person I was before."
"I feel accepted by everyone."
"It doesn't matter if I forget people's names or make mistakes. Everyone else does too."
"I can't tell the survivors from the staff. Everyone is equal."
"We are all like one big family"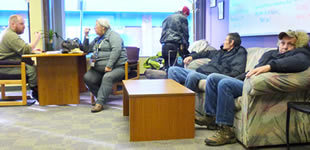 A sense of belonging is extremely important to us all, and it becomes even more so after a life-changing injury. Therefore, the staff at PG BIG work tirelessly to provide a safe, welcoming and nurturing space that welcomes everyone, and belongs to those with a brain injury. Some of the many services offered include:
A friendly, open, and very informal environment.
Comfy couches, chairs, and corners where one can sit and visit with others, or just relax.
Coffee that is always on, and often there are also shared treats to eat.
Equipment available for personal use:

Computers and telephone use.
Photocopying and faxing.
Big screen TV with a DVD player.
Radio with a cd/tape player.

Brain injury library
And for those who still require it, there is a smoking area out back.